Audio Game Maker
Games that give only audio-based feedback are so called Audio-Games, mostly played by visually impaired people. Audio Game Maker enables visually impaired people to develop these kind of audio games on their own! As an intern at Accessibility I created the idea with my fellow intern Erwin Henraat and my two internship leaders Richard van Tol and Sander Huiberts.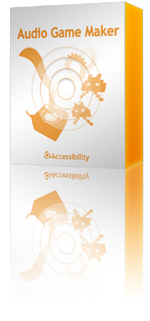 The tool was based on a buildingblock system. Each game exists on different kind of buildingblocks: Player, Enemy, SoundSource, etc. By using a audio-menu the user could connecting these buildingblocks and create different kind of scenario's. These scenario's could lead in the end towards a real audio-game!
Audio Game Maker took about 9 Months to develop in which I was lead programmer.
May 2007